Interview to Evelina Silvestroni
I'm Evelina Silvestroni (https://www.instagram.com/a_r_t_i_t_u_d_e), Art Sharer, Art Historian and Social Media Manager for Palazzo Chigi in Ariccia and for a digital agency.
My goal is to bring and introduce Art to as many people as possible through the creation of digital content.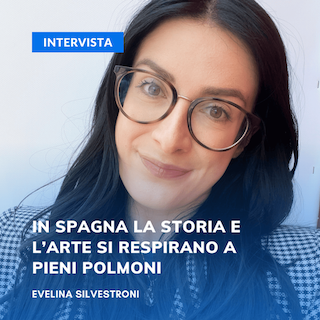 What's the most beautiful city you've visited?
The most beautiful city I visited in Southern Italy is in Sicily: Palermo, although the reality is that I fell in love with the whole island, which I visited for the first time three years ago. I was amazed by the art of its cities, the excellent cuisine, the crystal clear sea and the extremely friendly people. In particular, I really enjoyed Palermo, where I left my heart for the multicultural air that you breathe, which is reflected over the centuries in the Art too, with the works of Arab and Norman inspiration or the beautiful Sicilian Baroque. A magical city, where the smell of spices mixes with the smell of fried arancine. Palermo's history is rich and intense, full of beauty hidden in diversity. I love it so much that this year I will return to Palermo to explore it again and more deeply. I will then go to the area of Trapani, for me new.

In your opinion, what's the perfect destination for a relaxing trip?
Definitely the perfect destination for a relaxing trip is different for everyone, because relax is something subjective and personal. For me, relax means resting in a place that allows me to be in touch with nature, with the sea, but at the same time I love visiting so many places, getting lost in the art and history of the city. According to this, I would say that a city in Spain or a city in Sicily can be perfect, because art and history come together with the sea. A few years ago I was in Barcelona and I had a great time. I combined resting on the Barcelona beaches with visiting 1000 art sites, such as those of the magnificent Gaudi.

What's the perfect city for the ones who love to party?
From Spain I visited Barcelona and Valencia: both beautiful. History and Art can be breathed at the top of their lungs. The Gothic beat of Barcelona and the cathedral of Valencia are in my heart. I have not visited other cities, but I can already say that the air is always very festive and positive. A cheerful country that always wants to look for joy and celebration.

What's that one place that stole your heart?
The places where I have left my heart are actually many. There are small pieces of my heart scattered throughout Italy, but I can say that in addition to having particularly surprised Sicily, there was also Puglia. This Region also struck me particularly, with its cities so white, bright, full of history and so well-kept. Ostuni comes to my mind: splendid! I loved the clean sea of Puglia, probably the most beautiful I have ever seen: Torre Lapillo and Punta Prosciutto.

What's a must for summer?
Surely the Venice Biennale is very interesting: a "live" encounter with Art. A huge exhibition that involves all the senses, that puts people in touch with the most contemporary Art. Venice is full of interesting exhibitions.

Reach the islands with Corsica Ferries's ships and buy Seafy's wifi packages.